Teaching sure has changed a lot since I started over ten years ago.  I was asking students to put away their CD players instead of phones!  I remember when my classroom first got a projector.  The IT department got it working the day before I left for maternity leave that year.  The following year, when I returned to my classroom, all of my colleagues were projecting lessons and not using the overhead projector anymore.  I felt pressure to create smartnotebook lessons.  Once I got back into the swing of things, I loved the ability to write and save digital notes for my students!  Well, times are changing once more.  We are now a 1:1 device school!  This is very exciting and I can't wait to  get creating again.  I look forward to developing units of study that integrate 1:1 device instruction with paper and pencil tasks.  Stay tuned for more resources and teaching tips as I enter the realm of 1:1 devices.
Unit 1 is now available in my TPT shop!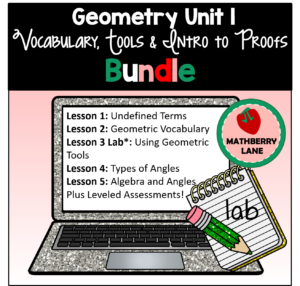 Have a wonderful year!